Fall 2017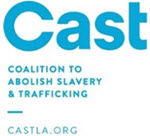 Coalition to Abolish Slavery and Trafficking
OVC Training and Technical Assistance Human Trafficking Grantee, 2015
The Coalition to Abolish Slavery and Trafficking (CAST) is a Los Angeles-based nonprofit human rights organization working to end modern-day slavery and human trafficking by providing comprehensive lifesaving services to survivors and creating a platform to advocate for groundbreaking policies and legislation. CAST has helped empower survivors to become leading voices in shaping policy and public awareness to ultimately end modern-day slavery. CAST's program areas include Emergency Response, Intensive Case Management, Shelter, Legal Services, Survivor Empowerment, Outreach and Training, and Policy and Advocacy.
Highlights
CAST created the Comprehensive Training and Technical Assistance (CTTA) project to increase human trafficking victims' access to the full spectrum of legal remedies offered by trained specialized legal service providers to increase victims' safety, financial well-being, independence, and self-sufficiency.
CAST's CTTA project seeks to—
Improve the quality and quantity of legal services training and technical assistance available for legal service providers and pro bono attorneys across the United States; and
Improve social service provider capacity to identify the legal service needs of human trafficking victims, provide reliable referrals, and work effectively with legal service providers.
CAST's CTTA project team excels at delivering effective training and technical assistance in multiple formats to service providers across the Nation. One of the team's strengths is its experienced attorneys dedicated solely to providing training and technical assistance. To date, CAST has trained 297 attorneys in California, Oregon, Nebraska, Texas, Missouri, North Dakota, New Jersey, Georgia, and Louisiana through the organization's comprehensive legal remedies for human trafficking survivors in-person training, wherein attorneys learn practical skills related to identifying human trafficking survivors, ethical considerations, immigration remedies, criminal victim rights, civil relief, and more. CAST has also trained 350 social service providers on best practices for working in multidisciplinary teams to understand the human trafficking legal framework. This includes learning about privilege and confidentiality, intake best practices, and legal remedies available to human trafficking survivors in the aforementioned states.
Services
CAST's CTTA project provides robust training and technical assistance to legal and social service providers across the Nation. For legal service providers, CAST can answer case-related legal questions, review initial T visa cover letters and client declarations, and assist in responding to Requests for Additional Evidence for immigration purposes and other court documents. For social service providers, CAST offers support regarding legal processes, best practices in maintaining confidentiality, and navigating the relationships and work within multidisciplinary teams.
CAST also offers working group calls and in-person and virtual trainings to help attorneys and service providers stay updated on current legal issues and practices within the human trafficking field. These services include—
Pro bono training for attorneys interested in legal advocacy and supports for victims of human trafficking.
Weekly legal anti-trafficking working groups for legal professionals to ask questions and share case experiences.
Monthly social services technical assistance calls for victim service providers to ask questions and learn strategies on supporting the legal needs of their clients.
A 16-hour legal training titled A Practical Guide for Attorneys Serving U.S. and Foreign National Trafficking Victims.
An 8-hour legal services training for social service providers to gain a better understanding of how to partner with attorneys to support victims of human trafficking.
Good To Know
CAST has learned many lessons from its in-person trainings and national technical assistance. Many service providers have questions about the legal definition of human trafficking and require more information about the various forms of legal relief available for human trafficking survivors, including victims' rights enforcement, civil remedies, and immigration relief.
CAST has also tracked trends in its work, identifying many barriers that make it difficult for human trafficking survivors to access legal services:
For immigration relief, there is an annual cap of 5,000 T visas available for foreign national human trafficking survivors, but no more than 1,000 T visas (not including derivative visas for family members) have ever been approved in a given year. (Data Set: Form I-914, "Application for T Nonimmigrant Status," U.S. Citizenship and Immigration Services, November 21, 2017.)
CAST routinely identifies survivors who have lengthy criminal records from activities their traffickers forced them to commit while being exploited.

Many survivors have open criminal cases pending against them in multiple jurisdictions and continue to be mistakenly treated as criminals instead of victims of crimes.
Many survivors are unaware that they may be eligible to have their criminal records cleared because of new human trafficking vacatur and expungement laws in a growing number of states.

Human trafficking victims rarely receive consultation about civil damages for which they might be eligible, despite often having claims for thousands (if not millions) of dollars in damages.
CAST is working to ensure victim service providers and survivors are aware of and have access to the spectrum of legal remedies available under the law.
Resources
CAST provides indepth technical assistance and creates practical publications in many areas of victim law:
Learn more about all of the training and technical assistance services CAST provides:
CAST Human Trafficking Training and Technical Assistance Flier (2017) (PDF 54 KB)

International Institute of Buffalo
Enhanced Collaborative Model Human Trafficking Grantee, 2015
The International Institute of Buffalo's mission is to make Western New York a better place for, and because of, refugees and immigrants. To achieve this, the institute offers integration, refugee resettlement, and employment programs; provides services to survivors of domestic violence and human trafficking; offers translation and interpretation services to break down language barriers; presents global education programs for students, adults, and businesses; and hosts international visitors through the U.S. State Department.
Highlights
The International Institute of Buffalo has been developing a comprehensive service model for survivors of human trafficking for nearly 10 years. The institute continues to build on trauma- informed, individualized services by identifying key gaps and implementing innovative projects and partnerships to meet all survivors' needs.
The institute identified housing as a significant need and is currently piloting a Housing First Program for survivors of human trafficking engaged in its intensive case management program. This pilot program provides survivors with independent housing and assists each enrolled participant with the supports necessary to identify and maintain a safe, stable living environment, so as to allow them the time and space to focus on minimizing other vulnerabilities to homelessness and exploitation. The pilot program will be formally evaluated, using indicators to assess safety and client progress.
The institute is also designing and implementing a project to address the intersection of opioids and human trafficking. Western New York, like many communities across the country, is struggling with the opioid crisis. In 2016, there were 256 deaths in Erie County due to opioid overdoses. Four of these individuals were known survivors of human trafficking. The institute and its fellow task force members from the Western New York Anti-Trafficking Task Force are facing this sad reality in creative and aggressive ways by—
Providing technical assistance and educational trainings.
Prosecuting traffickers who use opioids to control and coerce victims.
Maintaining a presence in both the Buffalo and Rochester Human Trafficking Courts, where 85 to 90 percent of victim defendants have a current or recent opioid addiction at the time of their arrest.
Increasing identification through new collaborations, including funding through a county grant that helps to support the co-location of institute team members with child protective services (investigative) and children services (ongoing) once a week; there is also a plan to co-locate at community health centers.
Services
The International Institute of Buffalo provides intensive case management support and advocacy for any and all survivors of human trafficking identified in Western New York. The institute has specialized services for females, males, youth, immigrants, U.S. citizens, members of the LGBT community, and victims and survivors of labor and sex trafficking. Services are grounded in the principles of harm-reduction and trauma-informed care. Survivors drive all that the institute does and are paid as consultants for contributing to the institute's outreach, training, and public awareness efforts.
All services to victims and survivors of human trafficking are provided free of charge regardless of immigration status and support the following needs:
Safety
Legal and court
Housing
Basic needs (clothing, food, personal items)

Medical
Social service benefits
Mental health
Substance abuse
Crime victim help
Along with providing intensive case management and links to myriad specialized services in the community, the institute continues to fulfill its roles as co-facilitator of the Western New York Anti-Trafficking Task Force and the primary service partner for the Buffalo Human Trafficking Intervention Court. The institute has a program focused specifically on exploited and trafficked youth that not only works directly with this vulnerable population, but has started working onsite at the Erie County Department of Social Services to increase identification and case coordination.
Good To Know
The International Institute of Buffalo has developed an informal self-evaluation, conducted biannually, to assess the level at which current policies, procedures, and practices are utilizing the tenets of trauma-informed care. The institute believes this practice keeps it accountable to its beliefs and mission within individual client work, department programmatic work, and throughout the institute as a whole.
Resources
The International Institute of Buffalo provides interpreting and translation services to providers from health care, criminal justice/court, education, nonprofit, and other organizations in the field. This resource is available nationally via phone and/or video and is not specific to human trafficking. To learn more or request training or consultation, call 716–883–1900 or email languageservicesassistant@iibuff.org.

The Salvation Army Wake County: Project FIGHT
OVC Comprehensive Services Human Trafficking Grantee, 2014
The Salvation Army is deeply committed to the fight against modern-day human trafficking, including for the purposes of both commercial sexual and labor exploitation. This commitment emerges from The Salvation Army's mission and is rooted in the organization's early history. The Salvation Army of Wake County's Project FIGHT (Freeing Individuals Gripped by Human Trafficking) provides case management for victims of human trafficking and works to generate education and awareness about human trafficking in the community.
Highlights
Project FIGHT leads and participates in North Carolina's Rapid Response Teams (RRT). These multidisciplinary teams of direct service agencies, emergency responders, and law enforcement provide assistance within the first 24 to 72 hours of an identified human trafficking victim's recovery and rehabilitation process. There are nine teams across the state, and they integrate the following core competencies into their work:
Communicating nonjudgmentally (regarding sexuality, gender identification, religion, nationality, etc.) and compassionately with human trafficking victims, their families, and friends.
Understanding the importance of survivors' rights to self-determination.
Knowing state and national laws, rules, and regulations regarding human trafficking, including mandatory reporting responsibilities.
Knowing the laws and ethical principles that apply to medical, legal, and advocacy responders.
Providing culturally competent assessments, interventions, and prevention programming.
Recognizing factors that increase vulnerability to human trafficking (e.g., disability, age, nationality, etc.) while in no way blaming victims for these vulnerabilities.
Asking developmentally appropriate questions when interviewing victims.
Services
Project FIGHT, established in 2011, focuses on the following four major service components:
Education/Awareness
Outreach
Collaboration
Intensive Case Management
Project FIGHT provides services to male, female, and LGBTQ individuals of all ages, serving both domestic and foreign-born clients. The project has eight dedicated case managers throughout the state of North Carolina who provide crisis intervention and comprehensive case management for survivors of human trafficking and lead RRTs in Raleigh, Greenville, New Bern, Charlotte, and Asheville. These managers coordinate the vast array of services a survivor may need from the time of victim identification through independence and recovery:
Food, housing, clothing
Safety planning
Dental and medical care
Mental health
Identification
Documentation
Education

Employment
Housing
Transportation
Immigration
Legal assistance
English as a second language classes
Project FIGHT also operates a 24-hour hotline specifically for law enforcement, prosecutors, and victim service providers to access immediate support, referrals, and RRTs in the state. The hotline works in coordination with the National Human Trafficking Hotline.
Good To Know
Without data to predict the potential number of victims across the state, Project FIGHT was established to handle 12 cases over 2 years; however, by the second month, those 12 cases were opened. Since 2011, Project FIGHT has served individuals from more than 400 referrals and has opened 162 cases for case management services.
Project FIGHT has built relationships across the state with law enforcement, medical professionals, sexual assault agencies, refugee services, employment programs, other anti-trafficking organizations, and legal service providers to promote their actions in order to correctly identify victims and provide the services they need. Project FIGHT understands the value in these relationships and works to maintain them through consistent and reliable information and resource sharing, offering assistance and strategies to fill gaps in victim services and by showing up to the table.
Project FIGHT has a presence at all state-level human trafficking meetings and is a member of the North Carolina Coalition Against Human Trafficking (NCCAHT). The North Carolina Legislature appointed a representative from Project FIGHT to serve on the board for the North Carolina Human Trafficking Commission on behalf of NCCAHT. Project FIGHT is the local area coordinator for the RRTs of the Triangle, Greenville, and New Bern, with representation on all local RRTs.
Resources
The Salvation Army is available to provide Human Trafficking 101 training for groups interested in increasing community members' awareness. This training includes an overview of human trafficking, how to identify victims of human trafficking, examples of what human trafficking can look like in a community, whom to contact for support, and what community members can do to stop human trafficking. The organization also offers specific trainings on a variety of topics regarding human trafficking for more advanced groups. For additional information on advanced group topics, email projectfight@wakearmy.org.