Consultant Spotlight on...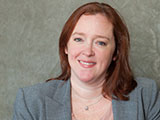 Lindy Aldrich
Area of expertise: campus crime/school violence, sexual violence, providing victim services, Title IX and campus sexual violence response, and providing legal TTA services
Location: Massachusetts
Lindy Aldrich has been with the Victim Rights Law Center (VRLC) since 2007, beginning as a staff attorney and becoming deputy director in 2010. Along with managing the daily activities of the VRLC and Boston office staff attorneys, she continues to represent victims of sexual assault across the Commonwealth in a wide range of legal areas, including education, privacy, safety, and federal and state government benefits. Given that almost 50 percent of the VRLC's clients are under the age of 24, Ms. Aldrich and other VRLC staff attorneys work to ensure that sexual assault victims stay on their educational course, including helping to curtail and ameliorate the often devastating impact of the assault on the victim's safety, housing (dormitory or off-campus housing), employment (after school, on or off campus job), scholarship, and extracurricular activities. As a trainer on the VRLC's national technical assistance grant, Ms. Aldrich trains around the country on such topics as Title IX and campus sexual assault policies and response; she and other VRLC trainers remain at the forefront of this national discussion through consultations and trainings with state and national agencies, universities, and other legal service providers. She has been a resource team member and trainer for the Office on Violence Against Women Campus Program Training and Technical Assistance Institute since 2010 and a presenter for the Project STOP NOW! conference for campus administrators from historically black colleges and universities. Ms. Aldrich received recognition as one of Massachusetts Lawyers Weekly 2012 Top Women in the Law. She is a member of the Rappaport Center on Law and Public Service Advisory Board. Ms. Aldrich received her juris doctor from Suffolk University Law School in 2006 and was named the 2013 Outstanding Young Alumni.