Consultant Spotlight on...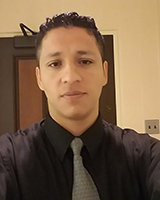 Rafael Bautista
Area of expertise: labor trafficking, Latino/Hispanic and immigrant victims, working with state agencies, providing first-hand testimony, and speaking to community organizations.
Location: California
Rafael Bautista was born in Mexico City, Mexico, and is a survivor of labor trafficking. After moving to the United States, he was forced to work for more than 18 months. With the assistance of Opening Doors, he escaped his trafficking situation and is now a survivor advocate. Mr. Bautista has spoken at a survivor panel in Washington, D.C.; participated on survivor-informed interviewing strategies panels in Atlanta, Georgia, Los Angeles, California, and Reno, Nevada; and participated in a plenary session for the Cook County Human Trafficking Task Force in Chicago, Illinois. Mr. Bautista is a member of the National Survivor Network. He also serves as one of the leaders of the Survivor Network, a survivor-led support group for human trafficking survivors that is part of the Sacramento Rescue and Restore Coalition. Currently, Mr. Bautista is a paralegal at a local law firm and a consultant for the Office for Victims of Crime and Office on Trafficking in Persons. He believes that with the proper support, all survivors can be positively restored and reintegrated into society.