Consultant Spotlight on...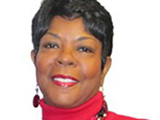 Dorothy Johnson-Speight
Area of expertise: African-American victims, juvenile/youth, grief and trauma, providing impact statements and first-hand testimony, and family of homicide victims.
Location: Pennsylvania
Dorothy Johnson-Speight is a licensed family therapist and long-time supporter of the rights of children and families. Following the tragic 2001 murder of her 24-year-old son Khaaliq Jabbar Johnson over a parking space dispute, Ms. Johnson-Speight, along with other grieving mothers, founded the nonprofit group Mothers In Charge, Inc. (MIC). She serves as the executive director of MIC, whose mission focuses on violence prevention through education and intervention for children, young adults, families, and community organizations. The organization's mission is achieved through collaborative partnerships with school districts, youth and faith-based community organizations, and family centers. Ms. Johnson-Speight and other members of MIC, along with Kathleen O'Hara of Creative Strategies for Living, presented a workshop titled The Victimization of a Survivor: When Your Child has been Murdered at the National Organization for Victim Assistance's National Conference in Philadelphia. She received many awards for her work in the community, including Philadelphia magazine's Best Philadelphian Award, the Philadelphia Inquirer Citizen of the Year Award, the National Action Network Community Leader Award, and Sorors Justice Fellowship Award. Under her leadership, MIC received numerous awards, including the FBI's Director of Community Service Award. Ms. Johnson-Speight earned her master's degree in Human Services from Lincoln University, she completed Immaculata University's School Psychologist Certification Program, and she is currently a doctoral candidate at Fielding University.