Consultant Spotlight on...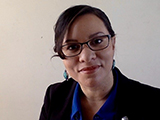 Noorie Brantmeier
Area of expertise: American Indian/Alaska Native (AI/AN) victims, AI/AN child, juvenile, or youth victims, cultural competency, domestic violence, Indian child welfare, and program evaluation design
Location: Virginia
Noorie Brantmeier has a social work background in the areas of organizational capacity building and social work practice with Native communities and organizations to include research and evaluation, curriculum development, training, and policy advocacy. Her expertise is in research coordination and data collection for national Native initiatives; direct social work practice with children and families in inner city and rural contexts; and training and curriculum development with domestic violence coalitions. She served on a review panel for the Administration for Native American's Social and Economic Development Strategies grants and the National Science Foundation. Dr. Brantmeier has experience working with survivors of domestic violence and their children, providing training to social services, educational professionals, and home care providers to identify family violence in the homes of young children. Dr. Brantmeier is an Assistant Professor at James Madison University where she teaches graduate and undergraduate courses on research methodology, adult training and development, diversity in organizational settings, and Native American studies. She has consulted for many Native nations and organizations including First Nations Development Institute, the National Congress of American Indians Policy Research Center, and Oweesta Corporation, on issues related to community development, research and data collection in Native communities. She currently sits on the board of First Step, a local domestic violence shelter. She was a co-founder of Seven Sisters Community Development Group, LLC, which is devoted to building the organizational capacity of Native organizations through training and technical assistance. Dr. Brantmeier holds a bachelor's degree in Social Work from Indiana University-Bloomington, and a master's degree in Social Work from Washington University in St. Louis where she was a Kathryn M. Buder Scholar in American Indian Studies. She received her Ph.D. from Colorado State University in Education and Human Resource Studies with a specialization in Research Methodology.