Consultant Spotlight on...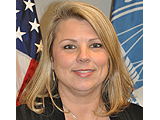 Sandra Hein
Area of expertise: Sexual Assault/Violence, Physical Assault, Crime Scene Forensics/DNA Evidence, and Crisis Response
Location: Virginia
Sandra Hein has served as a police officer with the City of Alexandria, Virginia for 22 years. For the past 18 years, Detective Hein has worked in the Criminal Investigations Section, including 5 years as a Youth Sex and Physical Abuse Detective, and 3 years as a Burglary Detective. For the past 10 years, she has been assigned to the Violent Crimes Unit where her primary responsibility is the investigation of adult sex crimes. She also investigates felonious assaults, sudden deaths, suicides, and homicides as needed. Detective Hein serves as a negotiator on the Alexandria Police Department's Hostage Negotiations Team. She is a certified instructor with the Department of Criminal Justice Services and serves on the training faculty of the Virginia Sexual and Domestic Violence Action Alliance (VSDVAA). She has trained law enforcement officers and allied professionals in the areas of sexual violence, SART response, crisis intervention, hostage negotiation, and police investigative procedures. Detective Hein developed the curriculum for the Criminal Investigations course currently offered at DeVry University. She was part of a team of professionals who developed the Sexual Violence Training for Trainers course for the VSDVAA. She served on the Treatment and Intervention Committee for Governor Kaine's State Commission on Sexual Violence. In 2011, Detective Hein received the Vola Lawson Award from the Alexandria Commission on Women in recognition of her work in the area of sexual violence. She holds a bachelor of science degree in criminal justice from Old Dominion University.