Consultant Spotlight on...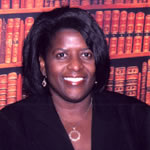 Aurelia Sands Belle
Area of expertise: Expert in domestic violence and sexual assault
Location: North Carolina
Aurelia Sands Belle has more than 20 years of experience in human service delivery, advocacy, management of nonprofit organizations, and programmatic implementation strategies. Currently, she is executive director of the Durham Crisis Response Center in North Carolina, a program serving victims of domestic violence and sexual assault. She is the former director of the Victim-Witness Assistance Program for the Metropolitan Atlanta Crime Commission in conjunction with the City of Atlanta. Mrs. Belle is a founding director of Justice Solutions, Inc., a nonprofit agency addressing criminal and social justice issues by providing technical assistance and intervention across the country. She also has served as interim executive director of the North Carolina Coalition Against Sexual Assault and director of the Rape Crisis Volunteers of Cumberland County in Fayetteville. Mrs. Belle conducts workshops that address the needs, rights, and concerns of victims of crime for OVC and End Violence Against Women, Intl. (EVAW). She serves as a faculty member for the National Victim Assistance Academy, North Carolina Victim Assistance Academy, and Florida Crime Prevention Training Institute for the Office of the Attorney General. She also presents workshops that promote team building, establishing community collaborations, working with nonprofit boards and organizations, diversity training, and self-empowerment for women. A noted crisis intervention trainer, Mrs. Belle has served on national and local crisis response teams that responded to a bus crash killing five coeds, the World Trade Center explosion, the 1996 Centennial Olympic Park bombing, an Ohio prison riot, Arkansas tornados, bank robberies, and death due to an industrial accident. Mrs. Belle is a recipient of NOVA's Margery Fry Award and the Presidential Award for Outstanding Service and Commitment to Crime Victims. Mrs. Belle earned a master's degree in community counseling from Georgia State University and a bachelor of arts degree in urban studies from Oglethorpe University.