Consultant Spotlight on...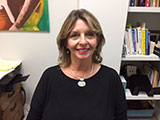 Anita Drummond
Area of expertise: victims of child abuse and child sexual abuse, telemedicine, rural/frontier victim populations, faith-based institutions, VOCA compensation, and K-12 schools
Location: Alabama
Anita Armstrong Drummond is a licensed professional counselor and has a private therapy practice, working with adults, children, and families. Prior to that, she served as the counselor for Summerdale School for 11 years, where she worked with many children who had been abused and neglected. During this same time, she was the part-time coordinator for the Southwest Alabama Abuse Network, a program that coordinates the use of telemedicine for rural child sexual abuse victims. That program enables trained physicians in one county to use videoconferencing equipment to provide sexual abuse exams to children in rural counties where no trained examiners are located. Prior to this, Ms. Drummond worked in the mental health field, and served as the District Attorney's Office's first victim/witness director. She worked with the District Attorney to push for more than 20 legislative bills to help victims. One of those bills that passed was the Alabama Crime Victims Compensation Commission, which she then directed for 11 years. Later, Ms. Drummond became the director of the Texas Attorney General's Crime Victim Compensation Division, which was the third largest victim compensation program in the country. After returning to Alabama, she served as the director of Prevent Child Abuse Alabama and co-founded various victim nonprofits, including the faith-based Neighbors Who Care, the Alabama Coalition Against Rape, and others. She received several awards, including NOVA's Tadini Bagacalupi Award and the Presidential Award in 1992 from President George H.W. Bush. Ms. Drummond earned an M.S. in Counseling from Troy State University in Montgomery, Alabama, and a B.S. in Correctional Psychology from the University of Alabama.