Consultant Spotlight on...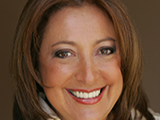 Ana Nogales
Area of expertise: Latino/Hispanic victims, participating in community planning, domestic violence, interviewing special populations, and OVC's Diversity Working Group
Location: California
Ana Nogales, Ph.D., is a clinical psychologist at Nogales Psychological Counseling, Inc., and the founder of Casa de la Familia, a nonprofit organization for victims of rape, sexual assault, child sexual and physical abuse, human trafficking, and domestic violence. She has practiced in Los Angeles and Orange Counties for more than 30 years, supervising a clinical staff of 45 bilingual-bicultural mental health professionals and overseeing outreach and advocate programs, including the Los Angeles Police Department – Domestic Abuse Response Team. She is an award-winning author and playwright, and is a regular contributor to magazines and newspapers, including Psychology Today.com and other blogs and periodicals. Dr. Nogales hosted her own TV and radio shows for Spanish-language media, and has been interviewed by the L.A. Times, Glamour, Cosmopolitan, Latina, Latina Style, Estylo, and People en Español, among others. Dr. Nogales authored four books, including Latina Power!; and the Latina Power Workbook: Using Your 7 Strengths to Say No to Abusive Relationships. Dr. Nogales' high school curriculum, LaTEENa Power! - 7 Inner Strengths for Creating Success, is offered in schools and community groups throughout the country. As a playwright, Dr. Nogales' most recent play, Don't Call Me Baby!, deals with the issue of human trafficking. Her earlier play, De Sabios y Locos, helped raise awareness of mental health issues within the Latino community. She was recognized with two humanitarian awards, and she was featured in the exhibit "Latinas: The Spirit of California" at the California Museum for History, Women, and the Arts in Sacramento. Dr. Nogales received her doctorate in 1983 from the United States International University.