Consultant Spotlight on...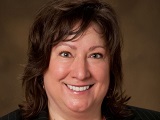 Amy Russell
Area of expertise: children, juvenile/youth, children exposed to violence, child abuse, enforcing crime victims' rights, policy development, and vicarious trauma for child service providers
Location: Minnesota
Amy Russell serves as executive director of the Gundersen National Child Protection Training Center and provides administrative and programmatic oversight, as well as professional training and technical assistance. Ms. Russell is a certified counselor and has worked with victims of violence and trauma in several capacities, including extensive counseling and support work with child victims of abuse; as director of victim services and counselor for survivors of homicide victims; as victim/witness coordinator in a U.S. Attorney's Office; and as executive director of two children's advocacy centers. In addition, she served as an independent contractor and trainer for UNICEF on child abuse and trafficking issues in Kosovo; served as a consultant for several children's advocacy centers and multidisciplinary teams for child abuse investigations and prosecutions; and interviewed more than 1,000 children. Ms. Russell conducted independent research on vicarious trauma in child protection professionals and published several peer-reviewed articles and book chapters on the topic. She provided hundreds of hours of training on recognizing the signs and symptoms of vicarious trauma and mitigating stress. Ms. Russell is a member of the American Counseling Association, the American Bar Association, the American Professional Society on the Abuse of Children, and the Association of Traumatic Stress Specialists. She obtained her B.A. in Sociology from Hope College, her M.S.Ed. in Counseling from Western Illinois University, and graduated magna cum laude from SUNY Buffalo Law School with her J.D.