Consultant Spotlight on...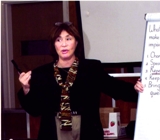 Angela DeLeon
Area of expertise: Expert in financial crimes against elderly people
Location: Connecticut
Angela DeLeon is the originator and coordinator of the People's United Bank Masters Program, nationally recognized for its leadership in initiating crime prevention and awareness programs for senior citizens. She joined People's United Bank in 1996 to create the Masters Program, which brings together significant resources in a collaborative commitment to help the elderly, including representatives from law enforcement, private and not-for-profit business, the office of the Attorney General, and senior advocacy agencies. Prior to joining People's United, Ms. DeLeon was employed by the Bridgeport, Connecticut Police Department where she established the first formal crime prevention program tailored to the needs of senior citizens. This program has since become a model for other cities throughout the United States. She initiated the nationally recognized File of Life Program and the Yellow Dot Program, both of which offer first responders a dossier of an older person's medical condition should they not be able to speak for themselves in an emergency situation. Ms. DeLeon is a member of the advisory board of the National Association of TRIADS, Inc. She is the director of the State of Connecticut TRIAD Association, and is the only person in the state of Connecticut certified to teach senior sensitivity, senior crime prevention, and interviewing techniques when dealing with the elderly to Connecticut law enforcement. In 2000, Ms. DeLeon was named the Crime Prevention Association of Connecticut's Practitioner of the Year, and in 2003 she was named a Woman of Distinction by the Housatonic Girl Scout Council. Ms. DeLeon is also a national trainer for the Office for Victims of Crime, an active member of the National Sheriffs Association, and a graduate of the FBI's Civilian Academy and the University of Louisville Crime Prevention School.