Consultant Spotlight on...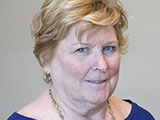 Beverly Frantz, Ph.D.
Area of expertise: victims with intellectual or developmental disabilities, working with and training first responders, co-occurring disorders, domestic and sexual violence, and developing training curricula
Location: Pennsylvania
Beverly Frantz, Ph.D., is an adjunct professor and project director of the criminal justice and sexual health programs at the Institute on Disabilities at Temple University. Dr. Frantz specializes in working with individuals with intellectual disabilities and autism and the intersection of healthy sexuality, sexual violence, and the criminal justice system to ensure all survivors have access to equal justice. Dr. Frantz is an expert in working with victim services, law enforcement, the disability community, and the judiciary to develop sustainable and proactive strategies and resources to reduce the risk of sexual and domestic violence, especially for individuals with complex communication needs. She oversees the development of personal safety training curricula and training videos for first responders when encountering situations involving persons with autism and complex communication needs. She is a cofounder of A Woman's Place, a domestic violence program and shelter. She served on the faculty of the Pennsylvania Victim Assistance Academy, AEquitas, and the National Prosecutors' Resource on Violence Against Women, and she received the Pennsylvania Governor's Victim Service Pathfinder Award. She also developed successful partnerships among self-advocacy, disability, and victim assistance organizations, and she developed a 3-day training for crime victim professionals on responding to crime victims with disabilities. Dr. Frantz has produced peer-reviewed journal articles, DVDs, book chapters, tip sheets, and personal safety/sexual abuse curricula for adults with intellectual and developmental disabilities and serves on various state and national advisory committees. She was an ESPN E:60 research consultant for a segment on the sexual abuse of athletes with intellectual disabilities. Dr. Frantz earned a doctoral degree in Human Sexuality from Widener University, a master of science degree in Industrial Relations and Personnel Management from the London School of Economics, and a master of science degree in Human Relations and Personnel Management from Villanova University in Pennsylvania.