Consultant Spotlight on...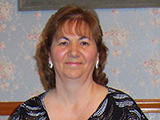 Bobbi Gagne
Area of expertise: lesbian/gay/bisexual/transgender victims, sexual violence, crisis response, victims/survivors of incest, and gender inclusive sheltering
Location: Vermont
Bobbi Gagne is the Executive Director of the Sexual Assault Crisis Team (SACT) of Washington County, Vermont. She has worked with male and female victims of sexual violence for more than 20 years, including lesbian/gay/bisexual/transgender/queer (LGBTQ) victims and victims of incest. She also has trained and educated law enforcement officers, various professionals, survivors, and the public. She opened the first gender inclusive shelter in Vermont for male and female victims of sexual violence. Ms. Gagne has spoken throughout the United States and internationally on the topics of sadistic abuse, incest, underground pornography, prostitution rings, and sexual assault. She is a member of the Washington County SART/SIU Response Team and the Vermont Network Against Domestic Violence and Sexual Violence. She is a member of the Leadership Forum of the Vermont Approach, an appointed member of the Governor's Prevention of Domestic and Sexual Violence Task Force, member of the Sexual Assault Coalition Resource Sharing Project, a member of the Vermont Women of Color Network and First Nation Caucus, and a Sexual Assault Services Program (SASP) National Forum presenter. She co-published in Quick Hits for Service Learning. Ms. Gagne participated in the SA Advocacy Summit, and she presented at the Vermont Safespace Statewide Conference, "Transitioning our Social Programs: Creating Safety and Access With the LGBTQ Community." The National Sexual Violence Resource Center and the Vermont Network Against Domestic and Sexual Violence honored Ms. Gagne with the National Sexual Assault Prevention Award, and she received the 2008 VCC Campus-Community Partnership Award on behalf of Norwich University and SACT. Ms. Gagne earned a B.A. in clinical counseling psychology.