Consultant Spotlight on...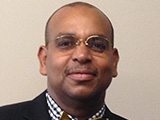 Barry McCrary
Area of expertise: corrections, designing and implementing tailored TA response plans, urban juvenile/youth, facilitating group discussions, and gang-related crime
Location: Illinois
Barry McCrary, Ph.D., has more than 30 years of experience in the field of juvenile justice, as well as more than 27 years of experience in training and academics. Dr. McCrary is currently an associate professor at Western Illinois University and was a professor at the University of Phoenix teaching policy issues in criminal justice. He worked for Allegheny County Juvenile Court, Community Intensive Supervision Program in Pittsburgh for 18 years, where he was responsible for counseling, designing, implementing, and monitoring a progressive treatment program. Dr. McCrary founded Maleness to Manhood, Inc., a nonprofit mentoring program for inner-city youth. He also worked as a counselor, consultant, therapist, and crisis intervention specialist for various organizations, including as a youth development aid at a Pennsylvania youth development center with violent juvenile offenders. He has experience in social science, administration of justice, and educational leadership. His relevant project experience includes corrections administration and management, corrections research, and for 18 years, he supervised a community intensive supervision program and supervised correction and probation workers within a community corrections setting and provided 3-day workshops quarterly for the officers and community monitors. His corrections-based staff development and in-service trainings addressed a variety of topics, including supervisory roles and responsibilities, drug and alcohol education and assessments, group facilitation, staff effectiveness, family assessment, gang intervention, parent effectiveness, safe physical management, and the development perspective of criminal behavior. Dr. McCrary earned his doctorate in Education from Duquesne University, his master of science in Administration of Justice from Shippensburg University, Pennsylvania, and his bachelor of science in Human Resource Management from Geneva College, Pennsylvania.