Consultant Spotlight on...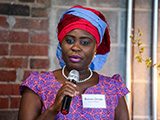 Bukola Oriola
Area of expertise: labor trafficking, African-American victims, immigrants, domestic violence, speaking engagements to victim assistance programs, and delivering messages to media.
Location: Minnesota
Bukola Oriola is a speaker, author, mentor, advocate, entrepreneur, and consultant. Ms. Oriola is also an award winning journalist and a survivor of labor trafficking and domestic violence. She is also a member of the U.S. Advisory Council on Human Trafficking, appointed by President Barack Obama in December 2015. Ms. Oriola has dedicated her life to helping others by sharing her story, and offering practical solutions to service providers, clinics, community members, and law enforcement on how to help victims of human trafficking and domestic violence. She depicts her experiences in a book, Imprisoned: The Travails of a Trafficked Victim, to serve as an eye opener about human trafficking to everyone around the world. Her newly released book, A Living Label: An Inspirational Memoir and Guide, is a sequel to her first book and documents her journey as a survivor and advocate to inspire other survivors. She was awarded Change Maker 2009 by the Minnesota Women's Press for her courage. She also received the Empowerment Award in May 2016 from the Student Senate at Metropolitan State University, Minnesota for her inspiring work in human trafficking advocacy. Ms. Oriola is the producer of Imprisoned Show, a TV talk show dedicated to educating the public about human trafficking, reinforcing awareness, and advocating for victims of human trafficking and domestic abuse. Ms. Oriola is also the founder of The Enitan Story, a nonprofit organization with a mission to advocate for victims and empowers survivors of human trafficking and domestic abuse, and owner, Bukola Braiding and Beauty Supply, LLC. She earned an associate's degree in Mass Communication from the Polytechnic Ibadan, Oyo, Nigeria.