Consultant Spotlight on...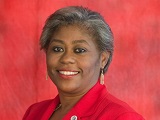 Chaplain Clementina M. Chéry
Area of expertise: Homicide bereavement, working with law enforcement, crisis response, and trauma-informed care
Location: Massachusetts
Chaplain Clementina M. Chéry is the President & CEO of the Louis D. Brown Peace Institute in Boston, Massachusetts. With more than two decades of experience as a survivor serving families impacted by murder, Chaplain Chéry has developed best practices in the field of homicide response. She strives to ensure that all families affected by homicide are treated with dignity and compassion. Chaplain Chéry has trained public health, criminal justice professionals and law enforcement officials to better serve families impacted by murder and interrupt cycles of retaliatory violence. She has trained doctors, social workers, psychologists, street workers, religious leaders, trauma responders, and community-based organizations. Chaplain Chéry worked closely with the Boston Police Department to establish a Family Resource Officer within the Homicide unit to better serve families of homicide victims. She also convened the first ever Homicide Response Briefing in Massachusetts for over 100 law enforcement officials from across the state. In 2017, Chaplain Chéry was chosen as a Barr Fellow for her vision, her collaborative leadership, and capacity to motivate others, drive change, and produce results. Chaplain Chéry has developed groundbreaking publications for families of murder victims and the providers who serve them, including Always in My Heart: A Workbook for Grieving Children (2011) and the Survivors Burial and Resource Guide (2013). Chaplain Chéry holds honorary Doctorate Degrees from College of the Holy Cross, Regis College, and Mount Ida College in Massachusetts.