Consultant Spotlight on...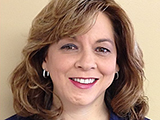 Cynthia King
Area of expertise: mental health care, child/juvenile/youth victims, child abuse, children exposed to violence, sexual violence, grief and trauma, interviewing special populations, and probation/parole
Location: Pennsylvania
Cynthia L. King is a Licensed Clinical Social Worker in Pennsylvania and a Licensed Independent Social Worker - Supervisor in Ohio. As president of King & Associates, Inc., she oversees eight therapists treating victims of sexual abuse, non-offending parents, and sexually offending individuals. She has 28 years of experience in assessment and treatment of juvenile and adult sex offenders, sexually reactive youth, and victims of sexual abuse and their families. For 20 years, she provided consultation to mental health professionals and agencies on providing therapeutic services to victims of sexual abuse, including Child Advocacy Centers (CACs) and child welfare agencies regarding their forensic interviews. Ms. King has written 14 curricula, on topics including child sexual abuse, supervision of sexual abuse cases, working with non-offending parents, assessment and treatment of juvenile and adult sex offenders, and psychological maltreatment of children. She co-wrote and piloted a 6-month forensic interviewing program for caseworkers, which included a field observation component. She has successfully written grants and played an integral role in developing two CACs and a residential treatment program for sexually acting-out adjudicated youth. She serves on the Governor's Sex Offender Assessment Board in Pennsylvania where she conducts parole assessments for adults who committed sexual offenses against children. She conducts sex offender assessments for the Federal Bureau of Prisons. Her recent endeavors include individual treatment for males convicted of child pornography crimes. She is on the Ohio Attorney General's list of expert witnesses for child sexual abuse cases and typically testifies to the disclosure process of children and the forensic interviews conducted by law enforcement officers or caseworkers. Ms. King is a member of the Association for the Treatment of Sexual Abusers, the American Professional Society on the Abuse of Children, and the National Association of Social Workers. She holds an M.S. in social administration from Case Western Reserve University.