Consultant Spotlight on...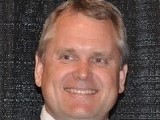 Chris Newlin
Area of expertise: children/youth, child abuse, training delivery, children exposed to violence, and organizational leadership and management
Location: Alabama
Chris Newlin, M.S., L.P.C., is the executive director of the National Children's Advocacy Center (NCAC), the first child advocacy center (CAC) in the world, where he provides leadership and management and participates in national and international training and leadership activities regarding the protection of children. NCAC provides prevention and intervention services for child abuse victims in the City of Huntsville and Madison County, Alabama, and houses the NCAC Training and Virtual Training Centers, the Southern Regional CAC, and the Child Abuse Library Online. Mr. Newlin has provided diverse training related to the NCAC Model, the multidisciplinary response to child abuse, the international development of CACs, forensic interviewing, best practices in child abuse intervention and response, and additional child maltreatment and exploitation topics in more than 20 countries at numerous international conferences. He currently serves on the Boys and Girls Club of America National Child and Club Safety Task Force, the International Association of Chiefs of Police Juvenile Justice and Child Protection Committee, the Interstate Commission for Juveniles (Human Trafficking and Child Abuse Member), the National Center for Victims of Crime Advisory Board for State Victim Assistance Academy Training, the National Council of Juvenile and Family Court Judges Vision 21 Linking Systems of Care Steering Committee, the VERA Institute for Justice Vision 21 Underserved Resource Center Steering Committee, and the Alabama Network of CACs Board of Directors. He is also a member of the International Society for the Prevention of Child Abuse and Neglect. In 2010, he received the Hendrix College Odyssey Medal for Service to the World and the International Impact Award from the International Services Council of Alabama. Mr. Newlin earned a master's degree in School Psychology from the University of Central Arkansas, a bachelor's degree in Psychology from Hendrix College, and completed the Strategic Perspectives in Nonprofit Management Executive Education Program at Harvard Business School.