Consultant Spotlight on...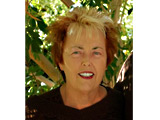 Diane Faugno
Area of expertise: sexual abuse/violence, domestic violence, child abuse, American Indian/Alaska Native victims, and certified Adult and Pediatric SANE
Location: California
Diana Faugno, MSN, RN, CPN, SANE-A, SANE-P, FAAFS, DF-IAFN, a native of Minnesota, is a founding board director of End Violence Against Women (EVAW) International and a board member of California American Professional Society on the Abuse of Children (CAPSAC). She has made numerous presentations to Sexual Assault Response Teams (SARTs) across the country as well as scientific community assemblies such as the American Academy of Science and the EVAW International Conference. She provides trainings on various topics to assist teams in staff development. Ms. Faugno is the co-author of Color Atlas of Sexual Assault (Mosby Publications, 1997). This was the first book of its kind in the Nation. She is also co-author of Sexual Assault across the Life Span (GW Medical, 2003) and numerous other publications. Ms. Faugno is a fellow in the American Academy of Forensic Science, as well as a Distinguished Fellow in the International Association of Forensic Nurses. Ms. Faugno earned her master's degree in nursing from the University of Phoenix and a bachelor's degree in nursing from the University of North Dakota.