Consultant Spotlight on...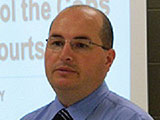 Dan Hally
Area of expertise: Domestic violence, stalking, cyberstalking, and working with child victims, rural victims, American Indian / Alaska Native victims of crime
Location: Washington
Dan Hally serves as Captain for the Asotin County Sheriff's Office and has worked in law enforcement since 1995. He leads the patrol and investigation divisions and specializes in investigating Internet crimes against children and in interviewing victims of violent crimes. He is a forensic artist for federal, state, and local law enforcement agencies throughout Idaho, Washington, and Oregon. Mr. Hally facilitates the strategic planning, staff development, and community relations for his divisions. He is the contracted 911 Coordinator for Asotin County and is the Chair for the Washington State E911 Public Education Sub-committee. He is also the Founder and Executive Director of the nonprofit Houser Christman Memorial Fund, which provides emergency funds to crime victims and training to first responders. Mr. Hally has extensive experience in developing effective education programs to improve victim services and law enforcement response particularly in Native American and Alaska Native communities. His dedication to victims of crime stems from his loss of three family members to homicide. He previously served as the Program Manager to the Tribal Victim Assistance grant training and technical service provider and as a Captain for the Nez Perce Tribal Police. Mr. Hally is dedicated to improving law enforcement officers' understanding of the trauma that crime victims experience and showing how officers can be more effective through their own behavior. He is passionate about improving the response to stalking, cyberstalking, domestic violence, and sexual assault through the use of best practice techniques. He recently began providing interactive training sessions on effective leadership and continues to provide a wide range of trainings for law enforcement, advocates and medical care providers. Mr. Hally has a B.S. degree in justice studies from Lewis Clark State College in Idaho and a M.A degree in organizational leadership from Gonzaga University in Washington.