Consultant Spotlight on...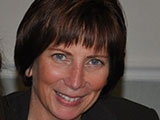 Debra Stanley, Ph.D.
Area of expertise: child victims and at-risk youth, cultural competency, managing strategic planning, drug-facilitated crime, and state victim assistance academies
Location: Maryland
Debra L. Stanley, Ph.D., is a professor and executive director of the School of Criminal Justice at the University of Baltimore, and director of the Roper Victim Assistance Academy of Maryland. For more than 25 years, she has promoted higher education, professional development, and training for victim service and criminal justice professionals. Dr. Stanley founded the Roper Academy, which was the first statewide initiative that provided comprehensive and standardized training for victim service professionals. Under her leadership, the Roper Academy served as a model for other states, and she helped form the Connecticut Victim Assistance Academy and served on its faculty. In 2008, Dr. Stanley developed a victim studies specialization for the Master of Science in Criminal Justice degree program at the University of Baltimore, and in 2014, she developed a new undergraduate minor in victimology and a post-baccalaureate Trauma-Informed Certificate program. Dr. Stanley has extensive research experience in victimology, domestic violence, child homicide, child victimization, youth violence, elderly victimization, drunk driving, drugs and crime, and program development and evaluation. She has been the principal investigator on dozens of federal, state, and locally funded research projects. Her applied research typically promotes new policies and practices that improve integrating victims into the criminal justice process, and expanding and enhancing services for crime victims. Dr. Stanley developed and implemented treatment and prevention programs for crime victims, high-risk youth and families, elderly, and criminal justice agencies. She works with public and nonprofit victim service and criminal justice agencies to improve quality of services. Her research has been disseminated in publications and through professional presentations. Dr. Stanley serves as the president of the American Society of Victimology, vice chair of the Victimology Section, Academy of Criminal Justice Sciences, and is a member of the Advisory Council for the U.S. Congressional Victims' Rights Caucus. She earned her Ph.D. in Criminology and Criminal Justice from the University of Maryland.