Consultant Spotlight on...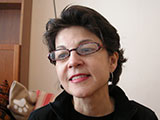 Julia da Silva
Area of expertise: Latino/Hispanic victims, child maltreatment prevention, domestic and family violence, and program development and implementation
Location: District of Columbia
Julia M. da Silva, a native Brazilian, has been a staff member with the American Psychological Association (APA) since 1997, and director of APA's Violence Prevention Office for several years. She serves as the primary point person for the APA on violence, prevention, and treatment issues, and represents the APA in local, state, national, and international efforts and forums on violence and prevention. Ms. da Silva has extensive experience and expertise in development, implementation, coordination and evaluation of programs and projects; coordination of multi-site interventions; curriculum and training materials; and training and public speaking for diverse audiences. She is fluent in English, French, Spanish, and Portuguese and has had work experiences in Brazil and internships in France. Ms. da Silva, with assistance from experts, developed and coordinates two national, multisite, multidisciplinary programs: ACT Raising Safe Kids (The ACT Program) and the OVC funded Effective Providers for Child Victims of Violence Program (The EP Program). The ACT Program is an 8-week national, multisite violence prevention program for parents. She develops materials, organizes in-person training of professionals to conduct the program and Webinars for their continuing education. She also monitors and provides technical assistance to the ACT program coordinators in more than 70 communities in the United States, Puerto Rico, and in 12 countries. Ms. da Silva's role in The EP Program, funded by OVC, includes developing materials for professionals, organizing workshops to prepare professionals to disseminate the program curriculum in their communities, and providing technical assistance to the program trainers. To support new APA initiatives, she also conducts background research for project design, identification of experts and potential partners, and funding sources. Ms. da Silva earned a graduate degree in Sociology from the University of Paris III, France, and a B.S. in Psychology from Catholic University, Sao Paulo, Brazil (1977).