Consultant Spotlight on...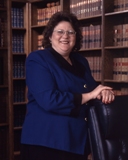 Dianne Barker-Harrold
Area of expertise: Expert in law and victim services in Indian Country
Location: Oklahoma
Dianne Barker-Harrold has practiced law for the past 23 years, many of them in Indian Country. She is currently a program manager for Unified Solutions Tribal Community Development Group, Inc., of Tempe, Arizona. In 2008 she facilitated two historic tribal task forces for the Office on Violence Against Women and the American Indian Resource Center'Institute for Native Justice. She has served as a tribal judge for 13 Indian tribes in Oklahoma and as the elected district attorney for 8 years in four counties in northeast Oklahoma. She also served as public defender for the Chickasaw Nation in Oklahoma and was the defense attorney in the first jury trial ever held in the Chickasaw Nation. Previously, Ms. Harrold served as attorney general, general counsel, and director of the Legal Assistance for Victims for the United Keetoowah Band of Cherokee Indians in Oklahoma and now holds the position of special advisor to the Chief. She also currently serves as the associate tribal judge for the Pawnee Nation of Oklahoma and has served as an adjunct professor at Bacone (Muscogee Creek Nation) College teaching Native American Studies. She is licensed to practice in numerous tribal courts and United States District Courts and is a licensed member of the Oklahoma Bar Association. She has served on the Oklahoma Attorney General's Domestic Violence Task Force and was chairperson of the Oklahoma Violence Against Women Act Grant Board. A member of numerous civic organizations, Ms. Harrold also is a member the National Congress of American Indians and the Oklahoma Indian Bar Association. She serves as the Native American/Victim representative for the State VOCA Board for Oklahoma, is on the advisory board for the 2010 Oklahoma Victim Assistance Academy, and the planning committee for the first Summit on Violence Against Native Women held in Oklahoma City in December 2009. An enrolled member of the Cherokee Nation of Oklahoma, Ms. Harrold is a frequent speaker around the country, training tribal prosecutors and law enforcement, victims' advocates, child welfare workers, and service providers in the areas of child abuse, victim advocacy, domestic violence, sexual assault, report writing, and other related topics. Ms. Harrold is one of the founding mothers of the Help-in-Crisis shelter in Tahlequah, Oklahoma, which is in its 30th year of service to victims of domestic violence and sexual assault. Her crime victim advocacy earned her the Women Holding Up the World Award from the National Coalition Against Sexual Assault and both the Heart of Gold Award and the Shining Star Award from the Oklahoma Coalition Against Domestic Violence and Sexual Assault. While District Attorney, she was twice selected as Oklahoma's Outstanding District Attorney.