Consultant Spotlight on...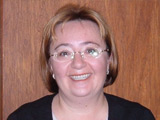 Elena Cherepanov
Area of expertise: mass violence/terrorism, crisis response, trauma informed care, working with immigrant victims, and domestic/sexual violence
Location: Massachusetts
Elena Cherepanov, Ph.D., is a clinical psychologist and psychotherapist with more than 15 years of teaching and clinical experience in multicultural settings. She specializes in individual, collective, and cultural trauma, refugee mental health, and community mental health. Dr. Cherepanov is a senior faculty member and Coordinator of the Trauma Studies program at Cambridge College. She supervises and trains the students to serve vulnerable populations: victims of crime, violence, and social injustice. They will work with refugees and immigrants, victims of gender-based violence, armed conflicts, first responders, and veterans of wars. Dr. Cherepanov is a board member of the Association of Trauma Specialists (Chair of Training & Education Committee) and an External Examiner at University of Manchester (UK). In the past, she coordinated trauma services and was part of the domestic violence RISE program at Child and Family Services of Pioneer Valley in Western Massachusetts, and she now works in Community Based Flexible Support Services at North Suffolk Mental Health Association. From 1986 to 1996, Dr. Cherepanov worked as an associate professor of Moscow State University. Later she taught or presented at University of Toronto, Smith College, University of Wisconsin, University of Massachusetts, and others. In Toronto she organized the dual diagnosis program for U.N. peacekeepers and law enforcement personnel. Since 1986, she has been working with nongovernmental international relief organizations and community-based organizations in a variety of mental health projects. She provided program management, mental health services, training, and education for victims and aid workers in Armenia, Chernobyl, Chechnya, Kosovo, and Liberia. Dr. Cherepanov is the recipient of the Carol Hacker Award for contribution to the trauma field presented by the Association of Traumatic Stress Specialists (2010). She is an author of over 40 publications.