Consultant Spotlight on...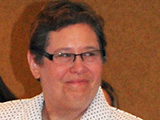 Fran Danis
Area of expertise: campus crime/school violence, domestic/dating violence, coordinated community response, campus sexual violence response, and planning of state victim assistance academies
Location: New York
Fran Danis, Ph.D., has more than 35 years of experience in victim assistance, including in the areas of direct practice, policy advocacy, administration, curriculum development and training, research, and evaluation. She was the founder and first executive director of Denton County Friends of the Family, an organization that serves survivors of domestic and sexual violence. She served as chair of the Texas Council on Family Violence. Dr. Danis was the principal investigator of the Victims of Crime: A Social Work Response, Building Skills to Strengthen Survivors project conducted in collaboration with the National Association of Social Workers/Texas and funded through OVC. She served as the project evaluator on several federally funded projects, including the Missouri Project to Develop a Statewide System of Care for Sexual Assault Victims. Dr. Danis also conducted training, needs assessments, and evaluations of state victim assistance academies. Her research interests include the resiliency of abuse survivors and their adult daughters, developing coordinated community responses to crime victims, the self-efficacy and competence of service providers who serve domestic violence survivors and other crime victims, and collegiate sororities and relationship violence. She is the co-editor of Domestic Violence: Intersectionality and Culturally Competent Practice (2010) and Breaking the Silence in Social Work Education: Domestic Violence Modules for Foundation Courses (2004). Dr. Danis' teaching experience includes courses on domestic violence, program evaluation, nonprofit management, social work practice with communities and organizations, and policy advocacy. Dr. Danis is currently a member of the Social Work faculty at the College of Staten Island, City University of New York, and she previously taught at the University of Texas' Arlington and Austin campuses and at the University of Missouri.