Consultant Spotlight on...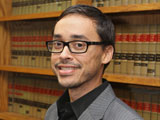 Jose Juan Lara, Jr.
Area of expertise: Immigrant, Latino, and LGBTQ victims of crime, domestic violence, crisis response, crime victims' rights
Location: Texas
Jose Juan ''J.J.'' Lara, Jr. is the Director of Advocacy and Training for the Texas Advocacy Project. He has been involved in the movement against gender violence since 1999 in Texas and has facilitated workshops at national, state, and local conferences on crisis intervention, systems advocacy for victims of family and sexual violence, and LGBTQ victims of interpersonal violence. Prior to coming to the Texas Advocacy Project, Mr. Lara was the Legal Advocate Program Coordinator for Friendship of Women, Inc. in Brownsville, Case Manager Supervisor/Volunteer Coordinator for Court Appointed Special Advocates (CASA) of Cameron and Willacy Counties, and Director of Legal Services for the Family Crisis Center, Inc. in Harlingen. Mr. Lara serves on the Board of Directors for the Texas Victim Services Association and allgo, a statewide queer people of color organization (originally, Austin Latina/o Lesbian and Gay Organization). Mr. Lara holds Master degrees in Sociology and Public Safety with specialization in Criminal Justice.