Consultant Spotlight on...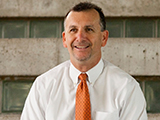 James Markey
Area of expertise: crime scene forensics, DNA evidence, investigating cold cases, abduction, domestic violence, sexual violence, and American Indian/Alaska Native, Hispanic/Latino, and immigrant victims of crime
Location: Arizona
James Markey served for 30 years with the Phoenix Police Department, retiring in 2012 as a detective sergeant. For 14 years, he supervised the sex crime unit which investigated more than 6,000 felony sexual assault cases, including 80 serial rapists, and processed dozens of crime scenes. As a subject matter expert on DNA evidence in sex crimes, he has lectured nationally on using DNA in sexual assault cases. He is a member of the Arizona Forensic Advisory Committee and consults with law enforcement agencies nationwide on investigating cold case sexual assaults. He has worked locally with police agencies to develop offender DNA databases and policies on the collection of DNA evidence. Sergeant Markey collaborated with the National Institute of Justice (NIJ) National Forensic Sciences Technology center on the use of DNA in addressing evidence backlogs and cold cases. In 2000, he developed and supervised one of the first cold case sexual assault teams. This team reviewed 2,500 cold case sex crimes and received more than 800 Combined DNA Index System (CODIS) hits to investigate. The team was nationally recognized for its achievements by the Alliance of Local Social Organizations as a Violence Against Women Act success story. His 11 years of training/instructing experience includes working with the National SANE/SART Conference to help create and instruct several training modules. Sergeant Markey has participated in peer reviews for Department of Justice grant solicitations and developed a pilot project addressing sex crime evidence backlog for NIJ and the Executive Office of the Vice President of the United States. He has written articles on investigating cold cases and co-authored a manual titled "Patrol Response to Drug Facilitated Sexual Assault." Sergeant Markey was trained by the University of Tennessee National Forensic Academy and has delivered multiple classes in crime scene management and collection, preservation, and testing of forensic evidence. He has a master's degree in educational leadership from Northern Arizona University and a bachelor of science degree in criminal justice from Arizona State University.