Consultant Spotlight on...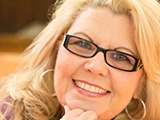 Julie Owens
Area of expertise: faith-based institutions, substance abuse prevention/treatment center, domestic violence, Native Hawaii / Other Pacific Islander victims, and co-occurring disorders
Location: North Carolina
Julie Owens is an independent consultant and trainer who is currently developing a pilot project of best practice interventions for special victim populations, including older victims, victims with disabilities, and those with limited English proficiency. For more than 8 years, Ms. Owens served as a regional director for the North Carolina Council for Women, overseeing victim program grants and best practices for advocates in 20 counties. Before relocating to North Carolina from Hawaii, Ms. Owens served on a statewide team providing training for domestic violence, sexual assault, substance abuse, and mental health counselors. She has extensive experience with psychological research focused on trauma related to domestic violence. She developed trauma assessment instruments and examined depression and post-traumatic stress disorder (PTSD) in victims of violence at the Department of Veterans' Affairs' National Center for PTSD. She also served as the project director for two 3-year studies on violence against women and trauma. She is a survivor of domestic violence, abduction, and attempted murder (she was forced to watch the attempted murder of her father). After escaping her abuser in 1988, she returned to school to study domestic violence and co-authored a grant to develop a community-based, on-call hospital crisis team for battered women. She trained crisis counselors and developed a comprehensive training manual and curriculum for health care professionals working in hospitals, university schools of medicine, and state family planning clinics. Ms. Owens co-founded a free transitional shelter for battered women and their children and served as a site coordinator for the Religion and Violence E-learning Web site. She has more than 25 years of experience providing training and presentations to federal agencies, nonprofit organizations, faith-based groups, medical and mental health facilities, and other professionals across the United States and internationally. Ms. Owens graduated cum laude with a bachelor of arts degree in Human Services from Hawaii Pacific University.