Consultant Spotlight on...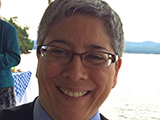 Kim Fountain
Area of expertise: lesbian/gay/bisexual/transgender victims of crime, dating/domestic violence, sexual violence, hate/bias crime, and coordinated community response
Location: Vermont
Kim Fountain is the executive director of Pride Center of Vermont, a statewide center that celebrates, educates, and advocates with and for LGBTQ Vermonters. Prior to this, she was the deputy director of the New York City Gay and Lesbian Anti-Violence Project in charge of community organizing, public advocacy, and client services. Ms. Fountain has worked in victim services as an administrator, community organizer, policy writer, and direct service provider with underserved and marginalized populations, primarily in urban areas, but most recently in a rural state. She has researched, written, and presented more than 200 trainings to a wide range of audiences from community-based organizations, law enforcement, District Attorneys' offices, aging services, and medical staff to nongovernmental organizations across India. Topics include LGBTQ intimate partner violence, sexual violence, and hate violence; coordinated community responses to violence; components of successful collaborations; and direct services at the intersections of identities. Ms. Fountain taught anthropology and gender studies for 11 years, and those classes included Sexuality and Nation Building, The Anthropology of Violence, Gender and Social Change, and Gender, Race, and Class. Her work is published in resource manuals, national reports, and academic journals. She earned a Ph.D. from the New School for Social Research in Anthropology. Her area of concentration is the violence of identity formation in the United States.