Consultant Spotlight on...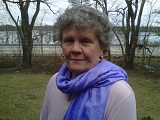 Kimberly Grebert
Area of expertise: mental health care, Deaf/hard of hearing, participating in community planning, interviewing special populations, and accessibility/compliance standards
Location: Massachusetts
Kimberly Grebert is a clinical social worker serving the Massachusetts Deaf community, which includes Deaf, Deaf Blind, Hard of Hearing, and Late Deafened individuals. She was the first Deaf person to graduate from the Boston University School of Social Work (1984). When facing barriers and misperceptions as a Deaf person and Deaf social worker, she uses the opportunity to educate and raise awareness. She has worked as a clinician for various outpatient mental health agencies, and as a coordinator for two Deaf service programs. Ms. Grebert was also the director of the former Westborough Inpatient Unit for the Deaf. She helped establish both the Massachusetts Commission for the Deaf and Hard of Hearing, and the Westborough Inpatient Unit for the Deaf. Ms. Grebert has consulted and presented on numerous topics to agencies and organizations in the Deaf community. She has trained staff at various hearing agencies and facilities about the clinical needs and cultural norms within the Deaf community. She has served on many task forces to advance emergency and non-emergency mental health services for the Deaf community. Over the last 21 years, Ms. Grebert has developed a private practice providing individual and family therapy with a focus on trauma recovery. There is a high rate of trauma in the Deaf community stemming from institutional abuse and/or linguistic oppression. Compared to non-Deaf children, there are higher rates of sexual and physical abuse of Deaf children, and greater vulnerability in all areas of victimization as adults. Currently, Ms. Grebert is the clinical supervisor/trainer for Our Deaf Survivors Center, a non-profit agency helping members of the Deaf community who are victims of domestic violence and sexual assault. She has been instrumental in developing the curriculum as well as interviewing, training, and evaluating volunteer applicants. Ms. Grebert is trained in technology safety related to victims of violence, with a special emphasis on technology used by the Deaf and Hard of Hearing community.