Consultant Spotlight on...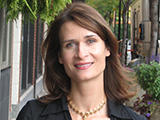 Katherine Kaufka Walts
Area of expertise: commercial sexual exploitation of children, immigrant victims, child and juvenile/youth victims, sex and labor trafficking, developing and delivering training and technical assistance, and training of trainers
Location: Illinois
Katherine Kaufka Walts is the director of the Center for the Human Rights of Children at Loyola University Chicago. The Center advances efforts of the Loyola University community to understand and protect the human rights of children using an interdisciplinary approach. Prior to joining Loyola, Ms. Kaufka Walts served as executive director of the International Organization for Adolescents (IOFA). At IOFA, she developed projects in the United States and abroad to advance the rights of children and youth, including the first program to develop the capacity of child welfare systems to better respond to child trafficking and exploitation cases. Prior to IOFA, Ms. Kaufka Walts managed the Counter-Human Trafficking project at the National Immigrant Justice Center in Chicago, where she worked with local, state, and federal law enforcement agencies on single- and multiple-victim sex and labor trafficking cases. She successfully represented victims of human trafficking (children and adults) in the United States within immigration and criminal justice proceedings under the Trafficking Victims Protection Act. Ms. Kaufka Walts continues to provide technical assistance, training, and consultation to various stakeholders in the United States and internationally on the subject of human trafficking, including law enforcement, social service providers, medical providers, community-based organizations, and faith-based communities. Most recently, her work focuses on issues affecting children, including the intersection of child welfare and child trafficking, Safe Harbor laws, and effective responses to child trafficking. Ms. Kaufka Walts has provided expert testimony to local, national, and international governmental bodies, including the United Nations Committee on the Rights of the Child. She was an appointed member of the American Bar Association's Human Trafficking Task Force (2012–13) and the Commission on Youth at Risk (2012–2015). She received her J.D. from the University of Wisconsin-Madison, and her B.A. and B.S. from the University of Michigan-Ann Arbor.