Consultant Spotlight on...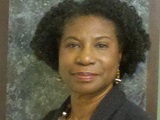 Katherine Lawson
Area of expertise: grief and trauma, working with victims of homicide and gun violence, and compassion fatigue and vicarious trauma, faith and spiritual issues
Location: Tennessee
Katherine Lawson, Ed.D., is Founder and Executive Director of Victims to Victory Inc., a nonprofit organization that provides faith-centered counseling and support to families grieving from homicide. As a victim services professional, Dr. Lawson integrates her training and experience as a psychologist, educator, and pastoral counselor with special interest in working with faith communities. She trained faith leaders and victim service providers in spiritual dimensions of grief, trauma, and victimization and has worked in crisis response, including helping clergy after the 9/11 terrorist attacks. In addition to establishing a model faith-based homicide services program, she was instrumental in developing and directing a Memphis chapter of Neighbors Who Care, the first national Christian crime victim assistance organization. Presently, Dr. Lawson trains local faith leaders through the Department of Justice Defending Childhood Initiative and partners with the Family Safety Center of Memphis and Shelby County to develop a chaplaincy program for victims of domestic violence. For an OVC grant to develop a community-based protocol on responding to victims of mass violence, Dr. Lawson coordinated training that facilitated faith-based and mental health collaborations. She consulted with the University of Tennessee on developing faith-based curricula on family violence education. She consulted for the University of Memphis on collaborative research on African-Americans coping after homicidal bereavement. She received awards from the Tennessee Coalition of Domestic and Sexual Violence; the Trauma, Faith, and Resilience Initiative of Union University; and the Tennessee Board of Probation and Parole. Dr. Lawson earned her doctorate in educational psychology and counseling in 1991 from the University of Memphis where she served as an adjunct and assistant professor for four years before completing clinical pastoral education and moving into a role as congregational counseling and support director. She holds a master of education degree in school psychology.