Consultant Spotlight on...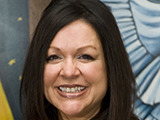 Kimber Nicoletti
Area of expertise: Latino/Hispanic, immigrant, rural/frontier, labor and sex trafficking, and cultural competency
Location: Indiana
Kimber J. Nicoletti, M.S.W., Director and Founder of Multicultural Efforts to End Sexual Assault at Purdue University, has been an advocate for Latina, migrant farm worker, and multicultural communities for more than 20 years. Ms. Nicoletti works at the national, state, and local levels to engage communities and organizations in the use of culturally relevant models to promote healing, healthy relationships, and violence prevention. Ms. Nicoletti is a co-author of several pamphlets and guidebooks on sexual violence prevention in farm worker communities. She developed a successful model for violence prevention in the migrant farm worker and Latina immigrant communities. In 2007, she created Mujeres del Movimiento, a national resource and support group for Latinas who work in violence prevention. Ms. Nicoletti uses an arts-based approach to engage communities. Her experiences as a survivor of domestic and sexual violence and as a bilingual therapist provide her with insight into the barriers and challenges in creating culturally relevant services. Ms. Nicoletti has worked as a consultant with the Centers for Disease Control and Prevention, the Office on Violence Against Women, Praxis International, the National Sexual Violence Resource Center, the Southern Poverty Law Center, California Rural Legal Assistance, and the U.S. Army. She served as chair for the Advisory Council of the National Sexual Violence Resource Center and served as president of the Purdue Latino Faculty and Staff Association for 5 years, where she is currently the president emeritus. She is an advisor to several student organizations. Ms. Nicoletti received the 2013 Woman of Distinction award from the YWCA. Ms. Nicoletti earned a master's degree in Social Work from Indiana University in 1998 and a bachelor of arts in Sociology from Purdue University in 1996.