Consultant Spotlight on...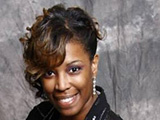 Keisha Varnell
Area of expertise: juvenile/youth, marginalized communities, college/university campuses and K-12 schools, facilitating group discussion, children exposed to violence, dating violence, and sexual abuse.
Location: Mississippi
Keisha Varnell is the director of interpersonal violence prevention programs through Title IX at Jackson State University. Ms. Varnell has been working in the field of interpersonal violence for more than 12 years and has facilitated many speaking engagements and training sessions on domestic violence, dating violence, sexual assault, stalking, diversity, and LGBTQ issues. She serves as chair of the University S.M.A.R.T. (Sexual Misconduct/Assault Response Team), charged by the University to develop campus-wide sexual assault and interpersonal violence policies, trainings, and programs. Ms. Varnell is a member of the VAWA (Violence Against Women Act) Campus Consortium through the Institutions of Higher Learning in Mississippi. Prior to her work in higher education, Ms. Varnell was the teen dating violence program manager for the Mississippi Coalition Against Domestic Violence for 7 years, where she chaired a statewide campus task force. Ms. Varnell received her master's degree in Public Health-Health Education and Promotion and is certified as an Interpersonal Violence Prevention Education Specialist.