Consultant Spotlight on...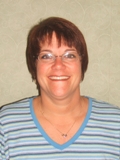 Keri Darling
Area of expertise: Expert in working with Deaf victims of crime
Location: Vermont
Keri Darling has served as the director for Deaf Vermonters Advocacy Services (DVAS) since 2000. She manages the day-to-day operations and supervises two staff. Prior to serving as the director, she managed a Deaf program, where she started training law enforcement officers about Deaf culture and communication through a VOCA (Victims of Crime Act) grant. Mrs. Darling has extensive experience in developing outstanding training curricula that reflect best practices when serving Deaf and hard-of-hearing victims/survivors. She has delivered hundreds of trainings and workshops, developed a variety of evaluations incorporating skills and knowledge and best practices, participated in several panels, developed needs assessments, provided technical assistance for specialized program development, and participated in coordinated community response teams sharing the Deaf perspectives. She also has developed several kinds of communication cards with sign language. Although Mrs. Darling focuses primarily on victims/survivors with a hearing loss, she also has experience in elder abuse and child abuse. Mrs. Darling is currently the chair of the board of the Justice for Deaf Victims National Coalition. Mrs. Darling has a B.A. degree in photojournalism with a minor concentration in women's studies from Rochester Institute of Technology in Rochester, New York.