Consultant Spotlight on...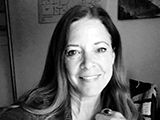 Leila Goldsmith
Area of expertise: American Indian/Alaska Native victims, coordinated crisis response in Indian Country, tribal justice system, interviewing special populations, and forensic interviewing
Location: Washington
Leila Goldsmith, J.D., currently serves as the child advocacy coordinator for the Tulalip Tribes (since 2007). She has subject matter expertise in the areas of child protection and systems improvement, and the ability to work cross-culturally with tribal, federal, and local entities. Ms. Goldsmith has trained social service professionals, medical and dental clinic staff, teachers, youth services workers, and parents on the identification of child abuse and prevention of child sexual abuse. Additionally, she trains professionals from multiple disciplines on victim advocacy in tribal and immigrant communities and cultural competency considerations for the core state victim advocate training. Ms. Goldsmith currently facilitates a tribal multidisciplinary team for child abuse cases, supervises culturally competent forensic interviewers, and oversees trauma-informed services for children exposed to violence. She manages the program's operations and oversees its development to serve the longer term needs of victims. Ms. Goldsmith is the liaison between her program and other tribal programs, nonprofit agencies, and other government programs serving crime victims. She serves on the board of the Native American Children's Alliance, an organization that aims to provide resources for development of child advocacy centers in Indian Country. Her participation in panel and individual presentations focuses on the development of children's advocacy centers and multidisciplinary teams, mandated reporting of child abuse, and identification of child abuse. Prior to working in Indian Country on behalf of child victims, she worked for 7 years as a guardian ad litem, investigating and making recommendations to the court in high conflict, complex family law matters involving child custody. Ms. Goldsmith earned her juris doctor from the Santa Clara University School of Law (1993), a bachelor of arts in Liberal (Diversified) Studies from Westmont College in Santa Barbara (1987), and a California Multiple Subject Teaching Credential (1988).