Consultant Spotlight on...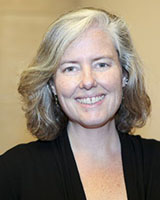 Linda McFarlane
Area of expertise: corrections, sexual violence, incarcerated victims of sexual violence, policy review and recommendations, and developing treatment plans
Location: California
Linda McFarlane, M.S.W., L.C.S.W., is deputy executive director of Just Detention International (JDI). She has 30 years of experience working with survivors of sexual assault, domestic violence, and child abuse. Ms. McFarlane leads JDI's domestic training, technical assistance, and mental health programs. She has trained thousands of corrections officials, medical and mental health practitioners, and direct service providers in the prevention and response to sexual violence behind bars. She works with dozens of corrections agencies to implement programs to make their facilities safer. Ms. McFarlane is a member of the U.S. Department of Justice Prison Rape Elimination Act Auditor Training faculty. She was formerly a staff member, unit supervisor, and then therapist in a juvenile detention facility for girls with mental illness. Ms. McFarlane has also worked in community rape crisis programs, foster care, and with adults with mental illness. Ms. McFarlane has a master's degree in Social Work and a bachelor's degree in Psychology, both from the University of Michigan.