Consultant Spotlight on...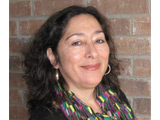 Laura Zárate
Area of expertise: translation/interpreters for victims, eliminating language barriers, arts for healing and awareness, working with immigrant and Latino victims of dating violence, sexual abuse, and stalking, and working with K–12 schools
Location: Texas
Laura E. Zárate is Founding Executive Director of Arte Sana (art heals), established in 2001 as the first national Latina-led agency to address sexual violence, and one of four agencies recognized by the Centers for Disease Control and Prevention as a model program for underserved survivors of sexual violence. With more than 28 years of advocacy and bilingual training experience in the U.S. and Latin America, Ms. Zárate has presented at various state, national, and international conferences and training events and has led Arte Sana's bilingual materials development and training projects. Ms. Zárate has promoted Internet-based collaborations among Latina victim advocates and allies for the development of original resources for anti-sexual violence work: the first Spanish language Sexual Assault Awareness Month packet in 2003, the first national online directory of victim services offered in Spanish, and the "La Víctima y la Sobreviviente," a bilingual victim advocate's CD toolkit made available to state sexual assault coalitions in 2005. Through Arte Sana, Ms. Zárate has planned various state and national bilingual sexual assault conferences. She was also project director for the "Existe Ayuda Toolkit" that was published in 2011 on OVC's Web site and is being used by rape crisis centers and state coalitions across the Nation. In 2004, Ms. Zárate was one of five recipients of the National Sexual Violence Resource Center's first national Award for Outstanding Effectiveness in Raising Awareness and Promoting Prevention of Sexual Violence. As co-founder of ALAS, the national Latina alliance against sexual violence, she has continued to advocate for bilingual professional development in victim services and the inclusion of Latin@s as active partners in sexual violence prevention.