Consultant Spotlight on...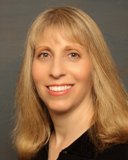 Lisa Ferentz
Area of expertise: Consultant is a clinical social worker
Location: Maryland
Lisa Ferentz is a clinical social worker whose areas of specialization include adult children of alcoholics; survivors of emotional, sexual, and physical abuse; codependency; substance abuse; eating disorders; self-injurious behavior; anxiety; depression; dissociation; professional burn-out; parenting skills; and stress management. She has been in private practice for 25 years. For 15 years, she was an adjunct instructor at the University of Maryland School of Social Work and was a core faculty member for the University's Continuing Professional Education. For 4 years she taught a certificate program in advanced trauma treatment, which she created. For two years, at the University of Maryland Department of Family and Community Medicine, she taught residents about patient interviewing skills and the somatization of trauma and mental illnesses. Mrs. Ferentz is the founder and president of The Institute for Advanced Psychotherapy Training and Education, Inc. which provides state of the art continuing education and two advanced certificate programs in trauma treatment for social workers and other mental health professionals. Mrs. Ferentz is also a faculty member of the Psychotherapy Networker Symposia and a former core faculty member of the Maryland Society for Clinical Social Work where she taught advanced practitioners. She serves as a clinical consultant for social workers treating trauma survivors in private practices and has provided ongoing clinical consultation for various health and social service agencies, including the Howard County Victim Assistance Unit, the Roper Victim Assistance Academy of Maryland and the Domestic Violence Unit at Northwest Hospital. Locally, nationally, and internationally, Ms. Ferentz presents workshops, lectures, and keynote addresses for clinical social workers, primary care physicians and other helping professionals interacting with trauma survivors and victims of violence. She has written articles on self-injurious behavior and participated in a documentary on multiple personality for the Learning Channel and three educational videotapes on eating disorders. She is currently writing a book entitled "Treating Self-Destructive Behaviors in Trauma Survivors: A Clinician's Guide" which will be published by Routledge. Ms. Ferentz has a B.A. in theatre from SUNY Albany, an M.S.W., L.C.S.W.-C from the University of Maryland School of Social Work, and is a diplomate of the American Psychotherapy Association. Learn more about The Institute for Advanced Psychotherapy Training and Education, Inc. at www.lisaferentz.com.