Consultant Spotlight on...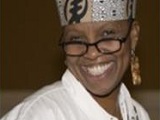 Marcella Benson-Quaziena
Area of expertise: African-American victims, LGBTQ victims, juvenile/youth, juvenile justice system, substance abuse prevention and treatment centers, and diversity/inclusivity
Location: Washington
Marcella Benson-Quaziena has more than 20 years of experience consulting for public and nonprofit sectors in the areas of change management, executive coaching, leadership development, strategic planning, organizational analysis and design, retreat design and facilitation, and team building. She is currently a faculty member at Fielding Graduate University and The Evergreen State College in Olympia, Washington. She chairs the Gestalt Institute of Cleveland's Organization and Systems Development certificate program and is core faculty with the National Training Laboratories Diversity Leadership certificate program. Dr. Benson-Quaziena served as deputy director for the National Court Appointed Special Advocate Association; office chief of staff for development training and diversity with the Children's Administration of the Washington State Department of Health and Social Services; and diversity administrator for the Washington State Department of Juvenile Administration. She taught at the University of Florida and Antioch University. Dr. Benson-Quaziena was a founding member of The National Black Women's Health Project and People of Color Against AIDS Network. She is a member of the board of The Washington State Children's Alliance, currently serving as board president. Her community involvement includes board and advisory committee work with the Washington State Department of Social and Health Services' Cultural Diversity Advisory Committee and Task Force on Gay and Lesbian Concerns; the King County HIV/AIDS Planning Council; Black, Latino Adolescent Alcohol and Drug Endeavor; Northwest AIDS Foundation Education Committee; Washington State Children's Justice Advisory Committee; and the Washington Association Concerned With Adolescent Pregnancy and Parenting Statewide Steering Committee. Dr. Benson-Quaziena holds a doctor of philosophy in Human and Organizational Systems and a master of arts in Organization Development from the Fielding Institute, and a clinical master of social work from the University of Washington.