Consultant Spotlight on...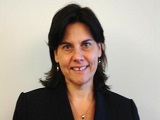 Mitru Ciarlante
Area of expertise: schools (K-12), juvenile/youth, campus crime/school violence, interviewing special populations, dating violence, and children exposed to violence
Location: Pennsylvania
Mitru Ciarlante has more than 25 years of leadership experience in programs advocating for child and youth victims, which includes creating a comprehensive children's advocacy program model, starting a statewide children's advocacy task force, establishing peer education programs, and organizing a statewide youth activist network. In 2013, Ms. Ciarlante joined Boys & Girls Clubs of America (BGCA) as director of Child & Club Safety to strengthen the ability of youth development professionals to keep children and youth safe. She is organizing the Safer Childhoods Network of organizations serving youth to advocate for the safety and protection of children and youth. Prior to joining BGCA, she served as director of the Youth Initiative at the National Center for Victims of Crime through her consulting firm, ACT for Change. Ms. Ciarlante has experience creating trauma-informed, direct service program models and curricula for responding to childhood victimization. She received extensive training from the Child Trauma Academy and the National Child Traumatic Stress Network. She serves as a content expert for the American Psychological Association in developing curricula and training for mental health professionals on the best evidence-based mental health assessments and interventions for children and teens who are experiencing trauma symptoms following exposure to violence and victimization. She served as a victim advocate to teens and youth. Ms. Ciarlante writes and trains extensively to build the Nation's capacity to address childhood victimization, advance youth rights, and ensure youth leadership on issues that affect them. Ms. Ciarlante is chair of the Research and Best Practices Committee of the Vision of Hope Fund of the Pennsylvania Coalition Against Rape. She is an advisor to the Teen Dating Violence Research Project of the National Institute of Justice and to the Portland State University Situational Prevention Model for Child Sexual Abuse Prevention Research Project. Ms. Ciarlante earned a bachelor of arts degree in Psychology from East Stroudsburg University in 1985. She completed the Nonprofit Management Executive Certificate program from Georgetown University in 2010.