Consultant Spotlight on...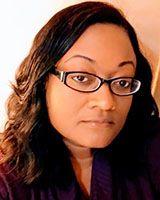 Michelle Harkey
Area of expertise: Children exposed to violence, dating violence, children/youth, military, developing resources for victim services, and crisis response.
Location: South Carolina
Michelle Harkey has been a victim service provider since 2002, providing trauma-informed services focused on at-risk youth and children in the foster care system. Based on her dedication to youth in need, she founded Stars Mentoring Services, LLC, an internationally accredited child and family service organization that provides therapeutic mentoring to at-risk youth and counseling services for military personnel, first responders, and crime victims and their families. She is the director of victim services, outreach, and training at the Pee Dee Coalition Against Domestic and Sexual Assault in South Carolina. She provides direct victim services, training, and technical assistance related to domestic violence and sexual assault in the Pee Dee region. Mrs. Harkey is a national victim service consultant, providing support and technical assistance to nonprofit and victim service organizations to enhance and develop their existing programs while meeting grant objectives. She helps organizations oversee project development, marketing, publications, and media relations. She developed successful partnerships with faith-based groups, military, and higher education communities to disseminate effective messages about youth violence, trauma-informed care, and support for victims of intimate partner violence, sexual assault, and bullying. She also provides services to victims and educates youth and families about violence. Prior to victim services, Mrs. Harkey was an intelligence analyst in the U.S. Air Force. As a result of her U.S. Department of Defense training, she created effective threat assessments and developed policies and procedures regarding emergency management, large-scale victim service response, and prevention for universities and schools across the Nation. Mrs. Harkey holds a master's degree in Human Services from Capella University and a bachelor's degree in Criminal Justice from Saint Leo University. She has multiple certifications in clinical trauma and disaster management and completed many school emergency management trainings provided by the U.S. Department of Education.