Consultant Spotlight on...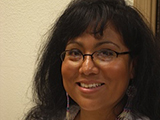 Melissa Riley
Area of expertise: American Indian/Alaska Native victims, forensic examination or interviewing, rural/frontier communities, children exposed to violence, sexual/domestic violence, and elder abuse
Location: New Mexico
Melissa Riley (Mescalero Apache) provides training and technical assistance (TTA) to American Indian and Alaska Native (AI/AN) communities as well as social work, behavioral health, education, and medical services in rural and urban programs on the national, state, and local levels. Ms. Riley uses her own culture, tradition, work experience, and education to help AI/AN communities enhance and sustain community programs that promote health and social justice. She has managed federal projects for the Office for Victims of Crime (Counseling & Faith-Based Services for Crime Victims in Indian Country TTA grant, Children's Justice Act Partnership in Indian Country TTA grant), assessing grantee needs, evaluating TTA services, and recording performance measures. She co-authored a national faith-based curriculum and produced TTA videos and training guides for these projects. She developed curricula for the New Mexico Department of Health/Office of Community Health Workers, Gallup Indian Health Services, and nonprofit organizations. She helped develop a sexual assault protocol for the Hopi Tribal Health Center and other tribal multidisciplinary policies and procedures that enhance victim service response and increase prosecution. Ms. Riley was a field interviewer for the National Institute of Justice funded Violence Against Indian Women National Baseline Pilot Study, and has experience with Institutional Review Board applications, National Institutes of Health certification, establishing research protocols and conducting research, and using digital equipment such as Computer-Assisted Personal Interviewing and Audio Computer Assisted Self-Interviewing. Ms. Riley coordinated efforts to develop and implement wrap-around services for tribal programs that serve community members impacted by alcohol and substance abuse. She provides direct services to New Mexico tribal communities, including counseling, social work, home evaluations, guardian ad litem services, and family conferencing facilitation. Ms. Riley is a doctoral candidate in education and has a master's degree in education and counseling from New Mexico State University.