Consultant Spotlight on...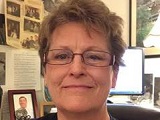 Michelle (Shell) Schwartz
Area of expertise: domestic violence and sexual assault victims with disabilities, caregiver abuse, designing/delivering trainings, needs assessment, trauma-informed response to victims with disabilities, and grant management
Location: Texas
Michelle (Shell) Schwartz is the disability services program director at the SAFE Alliance, a human services agency in Austin, Texas, serving survivors of child abuse, sexual assault and exploitation, and domestic violence. With more than 25 years of experience working with and advocating for the rights of people with disabilities, Ms. Schwartz oversees SAFE's disability services and abuse prevention program for youth and adults with a broad range of disabilities. She also works to create a coordinated community response to violence against people with disabilities and oversees the partnerships between disability advocates/provider agencies and SAFE. While with The Arc of the United States, she researched educational equity, quality of life, and self-determination for girls/women with cognitive and developmental disabilities. In addition to developing and implementing multiple training programs, Ms. Schwartz co-authored Beyond Labels, Working with Abuse Survivors with Mental Illness and Symptoms of Substance Abuse Issues (2008) and edited Promoting Justice: An Essential Resource Guide for Responding to Abuse Against Children with Disabilities (2015) and Meaningful Relationships Toolkit: A Blueprint for Supporting Integrated Community Engagement with People with Disabilities (2016). Ms. Schwartz serves on advisory groups on issues related to accessible services for people with disabilities in local and national work groups, including the National Center on Criminal Justice and Disability, the Seclusion and Restraint Reduction Leadership Group, the Vera Institute of Justice, and NoVo Foundation's core Uniting to End Violence Against People with Disabilities Work Group. Ms. Schwartz has a master's degree in Psychology.