Consultant Spotlight on...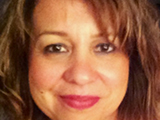 Maria Busineau
Area of expertise: Latino/Hispanic, immigrant, and male victims of sexual violence, faith and spiritual issues, and certified medical interpreter
Location: Connecticut
Maria Busineau is the Associate Director of the Sexual Assault Crisis Center of Eastern Connecticut (SACCEC). Ms. Busineau began her career at SACCEC as a volunteer, assisting victims of sexual violence through the 24-hour crisis hotline. In September 2000 she accepted a position with the agency, initially as a community educator, and subsequently as a Crisis Counselor. Ms. Busineau was promoted to Program Manager in 2003, and in July 2015 was promoted to Associate Director. Ms. Busineau manages the 24-hour crisis hotline, community prevention and education programs, as well as the recruitment and training of staff and volunteers. She aims to build strong partnerships in the community to ensure that victims and survivors have access to comprehensive services and the best outcomes possible. She has provided training and technical assistance to enlisted and civilian personnel at the U.S. Coast Guard Academy and the U.S. Naval Submarine Base. She participates in multiple college multidisciplinary teams in Eastern Connecticut and is a member of the Windham AIDS Task Force. Ms. Busineau is a member of the Spanish Response Team and the Latinx Advisory Committee with the Connecticut Alliance to End Sexual Violence (Connecticut's statewide alliance of rape crisis centers). Additionally, she is a member of Alianza Latina en Contra la Agresión Sexual, a national Latina-led membership network of victim advocates working to address and prevent sexual violence. Ms. Busineau has provided counseling to hundreds of victims of sexual violence over the past sixteen years and believes it is never too late to begin the journey to healing. Ms. Busineau is a Certified Sexual Assault Crisis Counselor as well as a Pastoral Counselor, having received her training at The Saint Francis Academy for Clinical Pastoral Counseling, as well as a certified medical interpreter, English/Spanish.