Consultant Spotlight on...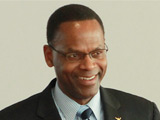 Nicholas Sensley
Area of expertise: Law enforcement, human trafficking, gang-related crime, hate/bias crime, working with juvenile/youth.
Location: Virginia
Nicholas Sensley is the Strategy and Development Consultant for Humanity United, a foundation committed to building peace and advancing human freedom. He is a former Chief of Police in Truckee, California. In addition to 24 years in policing, Mr. Sensley has worked as a consultant and developer on four continents since 1998. He is the owner of Cross-Sector Solutions LLC, whose purpose is to facilitate solutions to the benefit of communities around the world. His focus includes the development of leaders, the advancement of principled governance, and the formation of strategic collaborative partnerships. Mr. Sensley has been instrumental in facilitating training, education, and effective counter human trafficking initiatives globally. He has been acknowledged as an international expert on problem-solving significant community problems by the U.S. Department of Justice, the U.S. Department of State, the Organization for Security and Co-operation in Europe (OSCE), the International Centre for Migration Policy Development, and other international governments and organizations. At the request of the U.S. Department of State, Mr. Sensley represented the United States at the OSCE 55-member-states meetings in Vienna, Austria in 2003, 2004, and 2005. At the request of the U.S. Department of Justice, he authored national development and operational guidelines for anti-human trafficking task forces. As a developer for a worldwide nonprofit service institute whose purpose is to support leadership development, he is the Project Manager for their services to South Sudan in the development of a National Action Plan and Strategy to Combat Corruption. Mr. Sensley is a professional coach for executives in the governmental, corporate, and nonprofit sectors. He has served as an instructor of economics and an appointed regional Human Rights Commissioner, managed staff in an architectural firm, served in the U.S. Army, and currently serves on a regional health research institute Board of Directors. He holds a master's degree in business administration.