Consultant Spotlight on...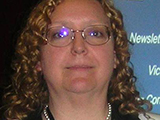 Paula Pierce
Area of expertise: computer/Internet/cyber-crime, identity theft/fraud, developing resources for victim services, providing victim services, and enforcing crime victims' rights
Location: Texas
Paula Pierce is a Managing Attorney at Texas Legal Services Center. She is also a manager of hotline programs, including the Victims Initiative for Counseling, Advocacy, and Restoration of the Southwest (VICARS) program funded by an OVC grant. Ms. Pierce has extensive experience in public interest law. She served on the Legal Services to the Poor in Civil Matters Committee of the State Bar of Texas early in her legal career and later joined the staff of Texas Legal Services Center where she has worked as an attorney providing legal services to the elderly, disabled, and economically disadvantaged, including the handling of crime victim compensation claims. In 2007, Ms. Pierce seized the opportunity to serve victims of identity theft and financial fraud by accepting the position she now holds. Since VICARS' inception, she has authored publications for victims and attorneys and been a frequent speaker on identity theft, talking to community groups, presenting at the Texas Poverty Law Conference, and testifying before the Texas House Committee on Business and Industry. She is a frequent speaker on the legal rights of identity theft victims. Before joining the Texas Legal Services Center, Ms. Pierce was in private legal practice in Austin and Houston. She served as a Briefing Attorney for Justice James P. Wallace of the Texas Supreme Court from 1986 to 1987. Ms. Pierce earned a law degree with high honors from South Texas College of Law in Houston, Texas, where she served as brief writer to the school's moot court teams and technical editor of the South Texas Law Journal. She has a B.A. degree in speech and drama with honors from Trinity University in San Antonio, Texas.