Consultant Spotlight on...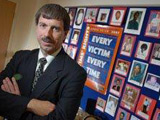 Russell Butler
Area of expertise: identity theft/fraud, cyber and Internet crime, enforcing victims' rights
Location: Maryland
Russell Butler has served as the Executive Director for the Maryland Crime Victims' Resource Center, Inc. (MCVRC) since 2002. He manages administrative operations and oversees development, marketing, legal clinics, victim assistance programs, lobbying, public and media relations as well as serving as a subject matter expert. In this capacity, he engages in strategic planning, staff development, and board relations. Mr. Butler has served as an adjunct professor of law at University of Baltimore since 2005 where he teaches a course titled "Rights of Crime Victims," and he also has taught a graduate course in criminal justice at the University of Baltimore. Mr. Butler serves as a member of the Victim Advisory Group of the United States Sentencing Commission. Previously, Mr. Butler served as co-chair of the American Bar Association's Victim Committee, as chair of the Maryland State Bar Association's Criminal Law and Practice Section, and as a member of the Maryland Commission on Criminal Sentencing Policy. Mr. Butler has extensive experience in developing effective education and outreach programs that reflect best practices in victim advocacy, including legal representation of crime victims. Mr. Butler has drafted numerous statutes and court rules including those related to victims' rights, restitution, and compensation and is regarded as a national subject matter expert in several areas including crime victims' rights and identity theft. Mr. Butler has completed consultant work for the American Bar Association and Parents Of Murdered Children. Before joining MCVRC, Mr. Butler was engaged in the private practice of law, served as lobbyist of the Stephanie Roper Committee and MADD Maryland, and was attorney for the Stephanie Roper Foundation. Mr. Butler has a J.D. degree from the University of Baltimore Law School and a B.A. degree from the University of Maryland in College Park.