Consultant Spotlight on...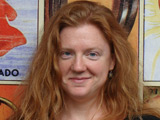 Rebecca Dreke
Area of expertise: LGBTQ victims of stalking, domestic and sexual violence, and grief and trauma
Location: District of Columbia
Rebecca Dreke is a Senior Program Associate with the Stalking Resource Center (SRC) at the National Center for Victims of Crime. SRC's mission is to raise national awareness about stalking and encourage multidisciplinary responses to stalking in communities across the country. In her position with the SRC, Ms. Dreke is responsible for developing original curricula and providing training for law enforcement, prosecutors, victim service providers and other professionals on all aspects of stalking, including the use of technology to stalk, campus stalking, and stalking and sexual assault. Ms. Dreke also contributes to the success of the program by co-authoring publications for the field regarding stalking support groups, model campus policies to address stalking, and guides for advocates. Ms. Dreke has provided hundreds of hours of technical assistance in her 5 years with the SRC. The SRC is the only national resource center dedicated to ending the crime of stalking. Ms. Dreke has trained thousands of multidisciplinary practitioners nationally on various topics, including stalking, sexual assault, domestic violence, LGBTQ (lesbian, gay, bisexual, transgender, and queer) issues, and hate and bias-motivated violence. Prior to joining the National Center, Ms. Dreke worked as a social worker, victim advocate, and public school teacher. She holds a master of science degree in social work from the University of Texas at Austin and a bachelor of arts degree in women's studies from the University of Minnesota – Twin Cities.