Consultant Spotlight on...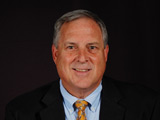 Ricker Hamilton
Area of expertise: elder abuse and older adult victims in rural and urban communities
Location: Maine
Ricker Hamilton is Deputy Commissioner of Programs for the Maine Department of Health and Human Services. He oversees programs and services in the offices of Aging and Disability Services, Child and Family Services, Substance Abuse and Mental Health Services, Multicultural Affairs and Domestic Violence and Sexual Assault Services. For 29 years, he was a Program Administrator for Protective Services in Adult Protective Services. Mr. Hamilton is Chair of the Maine Elder Death Analysis Review Team. He serves on various boards, including the Elder Abuse Institute of Maine, the Southern Maine Agency on Aging's Money Minders Program. He is a member of Maine Medical Center Clinical Ethics Committee and an Advisory Board member for the Community Counseling Center, Elder Advisory Council, International Association of Chiefs of Police, and the American Bar Association's Elder Abuse Project. He also is an Instructor at the Maine Criminal Justice Academy and a guest lecturer for the Department of Justice, Office on Violence Against Women and the Federal Law Enforcement Training Center. Awards include the Justice Award from St. Anselm College, Family Crisis Services Unsung Hero and Criminal Justice Awards, Maine's Distinguished Elder Service Award, and Maine Department of Health and Human Services' Integrated Services Award. Mr. Hamilton has an M.S.W. from Boston College Graduate School of Social Work and a B.A. from St. Anselm College.